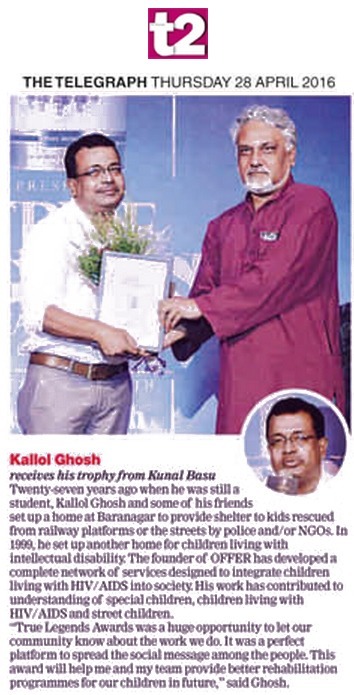 Kallol : A Sound of Life
An integral part of his life surrounds with a bunch of dreams for the downtrodden people of the society, which can make a difference in their lives. He is a counsellor for the dropouts, as well as homeless and delinquents also gets the guidance about the family, bonding and repatriation. His flock consists 500 children from different parts of the city and for those only he is always busy meeting volunteers, donors, corporate, trying to generate funds to keep his flock well-tuned.
He is a Godfather of slums, as recognized by his mates, is relentless in his pursuit in rescuing the ill-fated children from the clutches of poverty, drugs, malnutrition, etc.
Kallol Ghosh was born in 1965, in a upper-middle class family. He is a commerce Graduate. He first stepped in in an ordinary professional life, but his roots pushed him to do something special which can do a great change in the lives of the slum children, whose smiles were pricked with thorns of poverty, exploitation and vulnerability.
He is a social worker, an educator, a researcher and an advocate for the rights of the children.
Through three decades, he has experienced every nook & corners of the lives of the people who are unable to afford a normal diet in this society. However, he has managed to offer an alternative home and lifestyle on a small holding in the periphery of Kolkata.
ccording to him, an individual have some disabilities doesn't mean that his life is worthless because if they can be given good and special care they can face any challenges.
Kallol Ghosh is a person who can help the unturned or unnurtured buds get blossom.
He has unaccounted experiences in the fields of social service. He was engaged with NSV, NYK, Ministry of HRD, UNICEF.  At present, he is concerned with the children infected from HIV / AIDS, mentally & physically challenged children. He also achieved an Honorary Doctorate by the Italian Govt.